The Its Monday! What Are You Reading meme is hosted at Book Journey.
Life…
I've definitely hit my stride this week, not only did I get a lot read, and reviewed, I watched six movies – Havana Nights (bad), Street Dance (okay), You've Got Mail (*sigh*), XMen: Days of Future Past (good). How to Train Your Dragon 2 ( so cute) and Divergent (a lot better than I was expecting) – an entire season of Reckless (only to learn it's been cancelled – boo!) , a couple of episodes of Salem (hmm not sure about this yet) and a couple of episodes of Property Brothers plus my weekly TV favourites – Scorpion, Agents of Shield, Covert Affairs, Criminal Minds, The Great British Bake Off, NCIS, NCIS LA, NCIS New Orleans, Big Bang Theory, Gotham, Grimm, etc etc .  I was also treated to dinner by my children whose Scout group held a parent appreciation night, held two afternoon training sessions with my basketball team despite the 37C (98F) heat (one win and one loss this week)  – still didn't do much more than the essential housework though!
 What I Read Last Week
Horrorstör by Grady Hendrix
Gemma's Bluff by Karly Lane
Merciless Gods by Christos Tsiolkas
South of Darkness by John Marsden
A Modern Marriage by Christy and Mark Kidd
The Penguin Leunig: 40th Anniversary Edition by Michael Leunig
Between Us by Marieke Hardy and Michaela McGuire
New Posts

(click the titles to read my reviews)
Review: Laurinda by Alice Pung ★★★★1/2
Review: Horrorstör by Grady Hendrix ★★★1/2
Review: Gemma's Bluff by Karly Lane ★★★
Review: South of Darkness by John Marsden ★★★
Review: A Modern Marriage by Christy and Mark Kidd

About: The Penguin Leunig: 40th Anniversary Edition by Michael Leunig
Stuff on Sundays: Bookshelf Bounty
What I Am Reading Today
Forensic expert Professor Nick Fennimore has engineered lectures in Chicago and St Louis – a ploy to get to Detective Chief Inspector Kate Simms. She's in the United States on sabbatical with St Louis PD, and he's keen to see her again. Simms is working with a 'method swap' team, reviewing cold cases, sharing expertise. But Simms came to the US to escape the fallout from their previous case – the last thing she needs is Fennimore complicating her life. A call for help from a sheriff's deputy in Oklahoma seems like a welcome distraction for the professor – until he hears the details: a mother dead, her child gone – echoes of Fennimore's own tragedy. Nine-year-old Red, adventuring in Oklahoma's backwoods, has no clue that he and his mom are in the killer's sights. Back in St Louis, investigators discover a pattern: victims – all of them young mothers – dumped along a 600 mile stretch of I-44. The Oklahoma and St Louis investigations converge, uncovering serial murders across two continents and two decades. Under pressure, the killer begins to unravel, and when a fresh body surfaces, the race is on to catch the I-44 killer and save the boy.
What I Plan To Read This Week
(click the covers to view at Goodreads)
Maria and Joe have saved every available penny to give their daughters Kate and Sarah the best education possible, which to them means attending the most exclusive girls school in the state. But when Kate befriends the spoilt and moody Mirabella, Maria finds herself thrust into a high society of champagne-swilling mother-istas she hasn't budgeted for. Saturday morning netball is no longer a fun mother-daughter outing, but a minefield of social politics. While the increasingly neurotic Maria struggles to negotiate the school mum hierarchy, Joe quietly battles a midlife crisis and Kate attempts to grow up as gracefully as possible (without having her life ruined by embarrassing parents). For every woman who has ever felt she may be wearing the wrong shoes, this is a book that will remind you – you're not alone.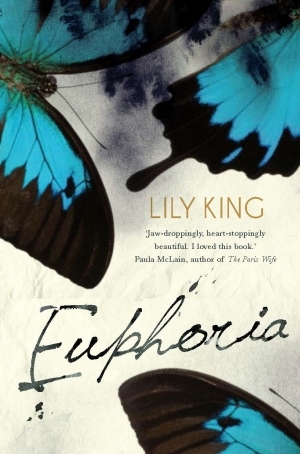 English anthropologist Andrew Bankson has been alone in the field for several years, studying the Kiona river tribe in the Territory of New Guinea. Haunted by the memory of his brothers' deaths and increasingly frustrated and isolated by his research, Bankson is on the verge of suicide when a chance encounter with colleagues, the controversial Nell Stone and her wry and mercurial Australian husband Fen, pulls him back from the brink. Nell and Fen have just fled the bloodthirsty Mumbanyo and, in spite of Nell's poor health, are hungry for a new discovery. When Bankson finds them a new tribe to divert them from leaving Papua New Guinea, the artistic, female-dominated Tam, he ignites an intellectual and romantic firestorm between the three of them that burns out of anyone's control. Set between two World Wars and inspired by events in the life of revolutionary anthropologist Margaret Mead, Euphoria is an enthralling story of passion, possession, exploration, and sacrifice.
Alice Howland is proud of the life she worked so hard to build. A Harvard professor, she has a successful husband and three grown children. She soon finds herself in the rapidly downward spiral of Alzheimer's Disease. Her short-term memory may be hanging on by a couple of frayed threads, but she is still Alice.
Coco Pinchard was never a single thirty-something. She married young, had a son, and put her dream to be a writer on hold.  Now her first novel is published. Husband Daniel has greyed nicely into a silver fox, and son Rosencrantz is grown up. It should be time to enjoy life.  That is, until the annual family Christmas when her hideous mother-in-law Ethel comes to stay, and Coco opens her gift from Daniel. It's not the jewellery she chose, but an iPhone. This marks the start of Daniel's mid-life crisis and she catches him in bed with a younger woman.  The iPhone becomes a confessional of sorts, through emails to her friends Chris, an ageing trustafarian and Marika a slightly alcoholic schoolteacher. Coco documents her seemingly endless (and often entertaining!) run of bad luck.  Then she meets the hunky Adam and she's back in the world of dating as a single forty-something…  Read the emails that tell the hilarious tale of Coco picking up the pieces, in this fun, feel good Romantic Comedy.
Gretchen is struggling with her newfound gift as a Whisperer; the constant buzzing in her ears from detecting spells is more frustrating than fun, especially when she is spending time with one of the Order of Iron Nail's Keepers, the icy but strikingly handsome Tobias Lawless. But while Gretchen tries to hide the truth and resolve her feelings for him, London fades from beautiful and bustling to deathly silent …Something evil is once again menacing Mayfair, and Gretchen and her cousins must use their powers to prevent a horrible sacrifice. This second book in the Lovegrove Legacy trilogy is full of dark twists, spellbinding suspense and sweeping romance.