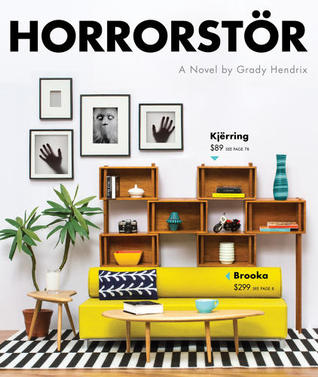 Title: Horrorstör
Author: Grady Hendrix
Published: Quirk Books September 2014
Status: Read from November 17 to 18, 2014 — I own a copy   {Courtesy the publisher/netgalley}
My Thoughts:
I first discovered Horrorstör by Grady Hendrix on Leeswammes Blog where the quirky cover, designed to imitate a IKEA catalogue, caught my eye. I was further intrigued when I learned she had given it five stars and I immediately added it to my wishlist based on her recommendation.
After the staff of IKEA ORSK repeatedly find soiled furniture, broken glass ware and other damaged products each morning with no evidence of an intruder, store manager Basil recruits two of his employees, Amy, a reluctant floor leader, and Ruth-Ann, an ORSK lifer, to work an overnight shift. His plan calls for hourly sweeps of each floor and when they stumble across a homeless man hiding under a bed, and two colleagues making out on a couch, they believe they have solved the mystery. But the man vehemently denies he is responsible and Amy's colleagues, aspiring ghost busters, Trinity and Matt persuade them to take part in a seance, and suddenly the 'Bright and Shining Way' is a dark path to an unimagined hell.
Really I am surprised it has taken so long for someone to set a horror novel in a big box store like IKEA which, with its funneled walkways, empty staged rooms, and horse-meat meatballs, has a creep factor even on an ordinary day. It is easy to imagine the magnified eeriness of the echoing spaces at night, especially if you believe someone, or something, is out on the floor stalking you.
The format of Horrorstör includes chapters prefaced by the familiar innocuous blueprints and product descriptions of furniture with names like Müskk (a bed) and Liripip (a wardrobe) which grow increasingly bizarre however as the story progresses. These add a humourous touch which offsets the dawning horror. Also included is an order form, a map and even staff evaluation forms.
Horrorstör is a quick, entertaining read designed to elicit a chill or two in the same way that the store is designed to encourage you to purchase a bookshelf or two. A horror novel with a touch of the absurd, you will never look at IKEA in quite the same way again.
PS. If you need more convincing that IKEA is the perfect setting for a horror novel, check out IKEA Singapore's TV ad to promote its late night opening hours – a tribute to The Shining.
Horrorstör is available to purchase from
Quirk Books I BookDepository I AmazonUS