The Its Monday! What Are You Reading meme is hosted at Book Journey.
Life…
I feel like I am finally getting my groove back, though things aren't really any less busy. I certainly got more accomplished this week (well… excluding housework) and feel less stressed as a result.
 What I Read Last Week
 The Great Plains by Nicole Alexander
Wife on the Run by Fiona Higgins
Breaking Beauty by Lynette Washington (Ed)
The Poppy Factory by Liz Trenow
Laurinda by Alice Pung
Once A Month Cooking by Jody Allen
Mug Cakes by Mima Sinclair
New Posts

(click the titles to read my reviews)
Review: The Great Plains by Nicole Alexander ★★★★
Review: The Woman Who Stole My Life by Marian Keyes ★★★
Review & Giveaway: Wife on the Run by Fiona Higgins ★★★★1/2
Review: The Poppy Factory by Liz Trenow
Review & Giveaway: Breaking Beauty by Lynette Washington (Ed)
Weekend Cooking: Mug Cakes by Mima Sinclair
What I Am Reading Today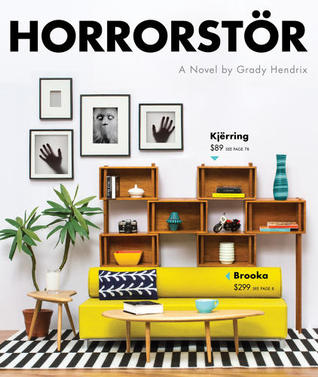 Something strange is happening at the Orsk furniture superstore in Cleveland, Ohio. Every morning, employees arrive to find broken Kjerring bookshelves, shattered Glans water goblets, and smashed Liripip wardrobes. Sales are down, security cameras reveal nothing, and store managers are panicking. To unravel the mystery, three employees volunteer to work a nine-hour dusk-till-dawn shift. In the dead of the night, they'll patrol the empty showroom floor, investigate strange sights and sounds, and encounter horrors that defy the imagination. A traditional haunted house story in a thoroughly contemporary setting, Horrorstör comes packaged in the form of a glossy mail order catalog, complete with product illustrations, a home delivery order form, and a map of Orsk's labyrinthine showroom
What I Plan To Read This Week
(click the covers to view at Goodreads)
Love, sex, death, family, friendship, betrayal, tenderness, sacrifice and revelation…..This incendiary collection of stories from acclaimed bestselling international writer Christos Tsiolkas takes you deep into worlds both strange and familiar, and characters that will never let you go…
Gemma's life has always been a foregone conclusion: school, uni, then into the family business. Her best friend, Jasmine, is a whole other story. She thrives on spontaneity, her room is always a mess and she rarely sits down and plans anything in her life. When Gemma and Jasmine decide to go on a working holiday together on a property in central New South Wales, their friends and family are surprised, since neither woman has any experience of farm life (unless you count Jasmine's obsession with McLeod's Daughters). Away from family commitments and expectations, it's not long before Gemma is thinking about following a new life's path in the country. It's a choice between safety or going out on a limb for love …
Thirteen-year-old Barnaby Fletch is a bag-and-bones orphan in London in the late 1700s. Barnaby lives on his wits and ill-gotten gains, on streets seething with the press of the throng and shadowed by sinister figures. Life is a precarious business. When he hears of a paradise on the other side of the world – a place called Botany Bay – he decides to commit a crime and get himself transported to a new life, a better life. To succeed, he must survive the trials of Newgate Prison, the stinking hull of a prison ship and the unknown terrors of a journey across the world.
And Botany Bay is far from the paradise Barnaby has imagined. When his past and present suddenly collide, he is soon fleeing for his life – once again. A riveting story of courage, hope and extraordinary adventure.
Writing a letter can be an act of confession or celebration, while receiving one can bring joy, insight and vivid memories. Ambassadors for correspondence Marieke Hardy and Michaela McGuire have lured some of our best and brightest to the literary afternoons of Women of Letters to write and read missives of all kinds. Bestselling novelist Hannah Kent exchanges letters about books, editing and synchronicity with her publisher Alex Craig. Intimate and outrageous declarations of love and friendship are shared between actor Rhys Muldoon and musician Kram. And award-winning cartoonist First Dog on the Moon expresses his affection for his editor Sophie Black through drawings (while she sticks to the written word).  Between Us is an inspiring and engaging collection of all-new letters from some of Australia's best-loved people.