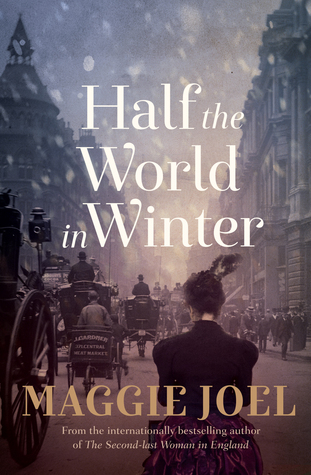 Title: Half the World in Winter
Author: Maggie Joel
Published: Allen & Unwin October 2014
Status: Read from October 13 to 16, 2014 — I own a copy {Courtesy the publisher}
My Thoughts:
A story of tragedy, grief, and redemption, Half The World in Winter centers around Lucas Jarmyn and his family who are mourning the grisly death of nine year old Sofia. As the household struggles with the loss of their beloved daughter and sister they turn away from each other, and their home, in which Lucas forbids a fire to be set, grows ever colder.
Hundreds of miles away a train accident claims the life of a young girl. Her grief stricken father, Thomas Brinkley, demands justice from the head of the railway, Lucas Jarmyn, and when it is not immediately forthcoming, seeks revenge on the man and his family.
Half the World in Winter is an exploration of the dynamics of a family in mourning, and the impact of death and grief in a period where tragedy was common. The Jarmyn family are not only struck by the death of Sofia, they lose a nephew to the Boer War, a cook to a chicken bone, a discarded maid to vice, and are burdened by the deaths of those souls killed on the railway.
"Inside 19 Cadogan Mews time had ceased. It no longer existed, it had no meaning. A silence had fallen that no one felt willing to break. Footsteps were muffled, and commands, if they were given at all, were given in muted whispers in the hallways and corridors. doors were kept closed and before entering hands hesitated on doorknobs and deep breaths were taken. An excuse not to enter at all was often found."
Set in England during the 1880's, the period detail is rich and meticulous, from the minutiae of the Jarmyn's household to the physical and social context of Victorian England. I was surprisingly interested by the workings of the Victorian railway system, and intrigued by the elaborate rituals of mourning – for middle class Britons there were strict rules to be followed after a death, determining, for example, the type and colour of fabric worn, to the depth of the border on notepaper.
"Half an inch for the first three months of mourning certainly. After that the border decreases to one-third of an inch. At six months it decreases to a quarter of an inch, then in increments of a tenth of an inch over the succeeding six months depending on the nature of the loss and one's relationship with the deceased"
I did struggle with the sombre and often bleak timbre of the narrative and the measured pace of the novel quickened only marginally near the end. The writing however is stylish and descriptive, and the portrayal of the period is vivid.
Half The World in Winter is a genteel historical drama,  but it was a little too slow and solemn for me to really enjoy
Half the World in Winter is available to purchase from
Allen & Unwin I
I Booktopia I Bookworld I via Booko
and all good bookstores.