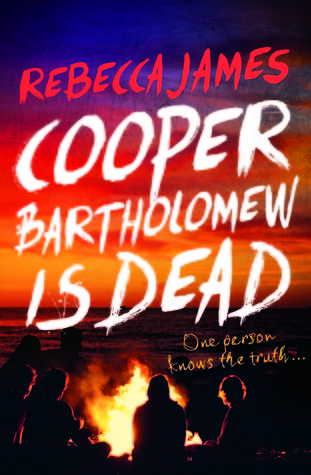 Title: Cooper Bartholomew is Dead
Author: Rebecca James
Published: Allen & Unwin October 2014
Status: Read from October 13 to 14, 2014 — I own a copy   {Courtesy the publisher}
My Thoughts:
When Cooper Bartholomew's broken body is found at the base of a cliff his death is declared a suicide but Libby, Cooper's girlfriend, refuses to believe him capable of it. Desperate to understand what led him to the edge, Libby retraces Cooper's last hours, eventually unraveling a tale of betrayal, jealousy, and shocking secrets.
The story unfolds from the alternating perspectives of Cooper, Libby, Sebastian and Claire, and shifts between 'then', detailing the events that led up to Cooper's death, and 'now', exposing its aftermath.
Though well paced, the novel lacked much of the tension I had been expecting, this is more of a psychological drama than a thriller. I found the plot fairly predictable and while the circumstances surrounding Cooper's death, when finally revealed, are emotionally powerful, they didn't come as a surprise to me. However, I found the narrative very compelling, due in no small part to my investment in the characters.
All four protagonists felt genuine in ways to me that other characters in the New Adult genre have rarely done, I believed in their emotion, motivation and actions. The characters have distinct voices, which is important given the structure of the narrative, and are complex individuals. The relationship dynamics are also convincingly drawn.
An engaging read about friendship, first love, loss and lies, I really enjoyed Cooper Bartholomew is Dead. This is Rebecca James' third novel following on from Beautiful Malice and Sweet Damage.
Available to purchase from
Allen & Unwin I
I Booktopia I Bookworld I via Booko
and all good bookstores.
Also available {Click for my reviews}