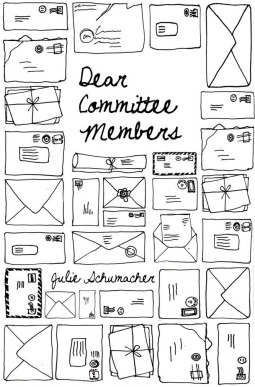 Title: Dear Committee Members
Author: Julie Schumacher
Published: The Friday Project: Harper Collins UK October 2014
Status: Read from October 07 to 09, 2014 — I own a copy   {Courtesy the publisher/Netgalley}
My Thoughts:
Presented wholly in epistolary form, Dear Committee Members is a short, witty novel exposing the weary cynicism of an aging college English and Creative Writing professor under siege from budget cuts, rampant bureaucracy, renovations, online forms and desperate students.
Over a year Professor Jason Fitger writes many letters, spurning the modern day convenience of email where possible, to complain about the lavish renovations occurring on the floor above him in the Economics department while the Humanties department slowly suffocates among the dust, to lobby whomever he can think of, enemy or no, to grant his favoured writing student a fiduciary break, and to recommend both past and present graduates, some of whom he has never met, for jobs they are wildly over qualified for.
Into each missive creeps increasingly brutally honest snippets of Jay's frustrations with his stalled writing career and his disastrous love life, his contempt for university politics, and his dismay at the dwindling esteem for language and literature. Though painted as an opinionated, surly curmudgeon, it becomes obvious that Fitger is also a passionate and dedicated teacher whom wants the respect he feels his department and its denizens deserve.
Bitterly funny and surprisingly poignant, Dear Committee Members is a scathing commentary on the foibles of academic administration, and an eloquent argument for the rescue of Humanties studies.
Dear Committee Members is available to purchase at
HarperCollins I AmazonUS I BookDepository I Indiebound