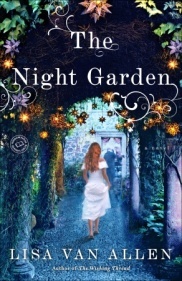 Title: The Night Garden
Author: Lisa Van Allen
Published: Ballantine: Random House October 2014
Status: Read from October 06 to 07, 2014 — I own a copy   {Courtesy the publisher/Edelweiss}
My Thoughts:
"To visit the Pennywort farm was to be reminded of everything in the world that was beautiful and bountiful…luxurious and endlessly good."
In upstate New York, Olivia Pennywort tends the family farm and the remarkable garden maze that she has created as a haven at its heart. It is said that the maze offers its visitors the answers to their most difficult questions, but it affords no such benefit to its caretaker who harbours a secret that forces her to keep everyone at arm's length. Over the years, Olivia has schooled herself to accept that there is no solution to her problem, but when Olivia's childhood best friend and sweetheart, Sam Van Winkle, returns to town, her fiercest desires are rekindled and she is compelled to ask herself if the garden she has created is her protector, or her prison.
Van Allen's prose is often lyrical, with vivid imagery of the garden and its surrounds. I could easily visualise the bordered up house, the stone walled garden of poisonous plants and the ramshackle cottage where Olivia's father made his home, though I wish I had a better knowledge of horticulture to fully appreciate the individual design of the maze.
" As she approached the garden maze, she saw that it too had gone wild with the joy of the rains. The smell of flowers was so thick it crossed the line from pleasant into nearly repulsive. Inside, Olivia wound through the twists and turns, admiring how rambunctious and joyful her maze seemed, as if it were spring instead of late summer. Morning glories the size of dinner plates stayed open all day long, and thickened beds of coreopsis gave off a mustardly glow. There was a slight breeze that carried the faintest scent of autumn, and far beneath the sweetness, the mineral scent of winter."
Though billed as magical realism, the magic wasn't grounded in the way I would expect from the genre, and instead I feel the story had more in common with a modern reinterpretation of a fairytale like Sleeping Beauty. Olivia, beautiful and beloved by all, lives alone at a top of a tower, is essentially trapped in stasis, and is eventually rescued by her Prince Charming, who has to hack through wild overgrowth to save her.
The romance between Olivia and Sam, which began when they were childhood sweethearts, and is reignited on his return, is touching and soulful. I sympathised with their hopes and fears for their relationship, I believed in their yearning to be together and I could feel their frustration at not being able to have skin contact.
" And then he was threading his fingers into the mass, twisting and untwisting it in his hands. She didn't even try to make conversation while he touched her; the sensation was too exquisite, too painful and pleasurable at the same time. He combed his fingers through her hair from top to bottom, and each time he caught a tangle it was like a little bite, a small and precise blast of desire like the spark from flint and steel."
In terms of plot, however, the neighborly conflict seems forced and fizzles out, and though we are told the garden can offer help to those seeking answers, Van Allen never really shows this. The overall conclusion too is unrealized, almost as if Van Allen couldn't figure out how to solve the conundrum herself, and so just hoped the reader would would accept vague assurances of 'love conquers all'.
A tale of loss, grief, desire, love and hope, I enjoyed the story of The Night Garden.
The Night Garden is available to purchase at
Random House I AmazonUS I BookDepository I Indiebound