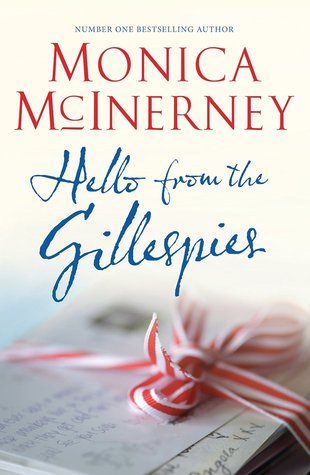 Title: Hello from the Gillespies
Author: Monica McIerney
Published: Michael Joseph: Penguin AU September 2014
Status: Read from September 25 to 27, 2014 — I own a copy   {Courtesy the publisher}
My Thoughts:
Australian-born but Dublin-based Monica McInerney is an internationally best selling author of novels that explore the joys and challenges of family and relationships. Hello from the Gillespies is her tenth novel, following on from her most recent successes, The House of Memories and Lola's Secret.
For thirty three years, Angela Gillespie has sent a lighthearted letter on December 1st, updating family and friends on the lives of the Gillespies, who live on a large sheep station in outback South Australia, but this time when she sits down to write her annual missive she forgoes the usual niceties and vents her doubts about her marriage, her concerns about their financial affairs, her worries about her children, her frustrations with an interfering aunt and wonders, what could have been. The letter was never meant to be sent but Angela is interrupted by an emergency (her youngest son accidentally amputating the tip of a finger) and her husband, who hasn't bothered to read the letters in years, thinks he is being helpful when he presses send.
Hello from the Gillespies offers a warm hearted, funny and sometimes poignant glimpse into family life. When Angela's letter makes all their secrets public, the fall out for the family, which includes her husband Nick, their adult daughters Genevieve, Victoria and Lindy and ten year old son Ig, is mixed. As they struggle to come to grips with the truths laid bare, an unexpected twist in the tale challenges the very foundation of the Gillespie family.
McIereny's characters are appealing and believable. As a wife and mother, I identified with Angela's frustrations and concerns. It is a rare woman I suspect who hasn't at least once wondered 'what if?' Perhaps my only niggle is that I felt the adult daughters behaved in ways more appropriate for twenty something rather than thirty something year old's (I don't have a lot of patience for the adultescent trend). However, the situations the characters find themselves in ring true, albeit slightly exaggerated, as do the dynamics between the family members.
Despite its length, the story had no trouble keeping my attention with several twists to the plot keeping it interesting, though the conclusion was predictable. The writing is accessible with natural dialogue. The settings, which includes the Gillespie station and brief glimpses of Ireland, London, New York and Adelaide, are authentically portrayed.
A heartfelt, witty and perceptive story about family, friendship and love, Hello from the Gillespies is an entertaining and charming read.
Hello from the Gillespies is available to purchase from
Penguin I
I Booktopia I Bookworld I Amazon AU  I   via Booko
AmazonUS I BookDepository I Indiebound
and all good bookstores.