The Its Monday! What Are You Reading meme is hosted at Book Journey.
Life…
 With the start of school holidays I won't have a lot of time in front of the computer.  In order to keep the kids entertained I am planning trips to the beach, the cycle park, the aquatic center plus we have some scouting activities to attend and we are thinking of going camping for the weekend.
Meanwhile, my parents are on a 10 day cruise to Vanuatu!
What I Read Last Week
 Best to Laugh by Lorna Landvik
Tumbledown Manor by Helen brown
One Kick by Chelsea Cain
Lyrebird Hill by Anna Romer
The Book of Days by K.A. Barker
New Posts

(click the titles to read my reviews)
Review: Zac and Mia by A.J. Betts ★★★★1/2
Review: Best to Laugh by Lorna Landvik ★★★
Review: Tumbledown Manor by Helen Brown ★★1/2
Review: One Kick by Chelsea Cain ★★★★
About: The Book of Days by K.A. Barker
Stuff On Sundays: Bookshelf Bounty
What I Am Reading Today
Rachael is a child prodigy, a talented artist whose maturity and eloquence is far beyond her fourteen years. She's also energetic, charming and beautiful, beguiling everyone around her. To her mother, Camille, she is perfect. But perfection requires work, as Camille knows all too well. For Rachael has another extraordinary gift: a murky one that rears its head from time to time, threatening to unbalance all the family has been working towards. When Rachael accuses her art teacher of sexual misconduct, Wolfe and Camille are drawn into a complex web of secrets and lies that pit husband against wife, and have the power to destroy all their lives. Set in contrasting worlds of Australia and Paris, told from the perspective of husband and wife, Rachael's Gift is a detective story of the heart, about a mother's uncompromising love for her daughter and a father's quest for the truth
What I Plan To Read This Week
(click the covers to view at Goodreads)
Three generations of Stewart women share a deep connection to their family farm, but a secret from the past threatens to tear them apart. Widowed matriarch Maggie remembers a time when the Italian prisoners of war came to work on their land, changing her heart and her home forever. Single mum Toni has been tied to the place for as long as she can recall, although farming was never her dream. And Flick is as passionate about the farm as a young girl could be, despite the limited opportunities for love. When a letter from 1946 is unearthed in an old cottage on the property, the Sunnyvale girls find themselves on a journey deep into their own hearts and all the way across the world to Italy. Their quest to solve a mystery leads to incredible discoveries about each other, and about themselves.
Revelation "Reve" Dyer grew up with her grandmother's family stories, stretching back centuries to Reve's ancestors, who founded the town of Hawley Five Corners, Massachusetts. Their history is steeped in secrets, for few outsiders know that an ancient magic runs in the Dyer women's blood, and that Reve is a magician whose powers are all too real. Reve and her husband are world-famous Las Vegas illusionists. They have three lovely young daughters, a beautiful home, and what seems like a charmed life. But Reve's world is shattered when an intruder alters her trick pistol and she accidentally shoots and kills her beloved husband onstage. Fearing for her daughters' lives, Reve flees with them to the place she has always felt safest—an antiquated farmhouse in the forest of Hawley Five Corners, where the magic of her ancestors reigns, and her oldest friend—and first love—is the town's chief of police. Here, in the forest, with its undeniable air of enchantment, Reve hopes she and her girls will be protected. Delving into the past for answers, Reve is drawn deeper into her family's legends. What she discovers is The Hawley Book of the Dead, an ancient leather-bound journal holding mysterious mythic power. As she pieces together the truth behind the book, Reve will have to shield herself and her daughters against an uncertain, increasingly dangerous fate. For soon it becomes clear that the stranger who upended Reve's life in Las Vegas has followed her to Hawley—and that she has something he desperately wants.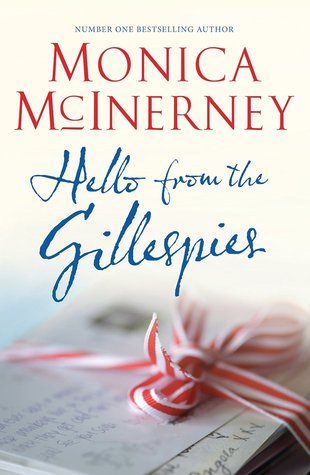 For the past thirty-three years, Angela Gillespie has sent to friends and family around the world an end-of-the-year letter titled "Hello from the Gillespies." It's always been cheery and full of good news. This year, Angela surprises herself–she tells the truth….  The Gillespies are far from the perfect family that Angela has made them out to be. Her husband is coping badly with retirement. Her thirty-two-year-old twins are having career meltdowns. Her third daughter, badly in debt, can't stop crying. And her ten-year-old son spends more time talking to his imaginary friend than to real ones.  Without Angela, the family would fall apart. But when Angela is taken away from them in a most unexpected manner, the Gillespies pull together–and pull themselves together–in wonderfully surprising ways…  From the bestselling author of The House of Memories comes a funny and heartfelt novel about miscommunication and mayhem in a family like no other.
You should come to the drought-relief fundraiser,' Kaydon said to Holly. 'It's a big fancy ball, heaps of fun.' Boy, could this girl use some fun. And some rump steak. Holly shook her head. Kaydon gave up. Trying to make her smile was like doing a rain dance. There were clouds and rumblings, and a sprinkle here and there. But no amount of fancy footwork was going to make it happen for real. Holly Harvey doesn't want to move to Gunnedah, far from her friends and her home near the beach. And she's a vegetarian, so living on a beef property, with cattle yards, polo ponies and pig-shooting, makes it even worse. She and Kaydon are worlds apart – until a fight breaks out at the fundraising ball.
It was crazy really, she had never met the woman, had no idea of her real name but she thought of her as a friend. Or, at least, the closest thing she had to a friend in Dublin. Struggling with a new baby, Yvonne turns to netmammy, an online forum for mothers, for support. Drawn into a world of new friends, she spends increasing amounts of time online and volunteers more and more information about herself. When one of her new friends goes offline, Yvonne thinks something is wrong, but dismisses her fears. After all, does she really know this woman? But when the body of a young woman with striking similarities to Yvonne's missing friend is found, Yvonne realises that they're all in terrifying danger. Can she persuade Sergeant Claire Boyle, herself about to go on maternity leave, to take her fears seriously?