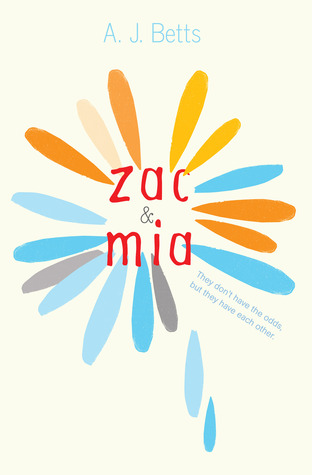 Title: Zac and Mia
Author: A.J. Betts
Published: HMH Books for Young Readers September 2014
Status: Read from September 11 to 13, 2014 — I own a copy   {Courtesy the publisher/netgalley}
My Thoughts:
A.J. Betts won the Text Prize for YA and Children's Writing in 2012 for her unpublished manuscript of Zac and Mia. Set in Western Australia, it is the story of two teenagers who meet while receiving treatment for cancer.
Seventeen year old Zac Meier is partway through an enforced period of isolation after a bone marrow transplant to treat his second re-occurrence of acute myeloid leukemia. Stuck in the adult oncology ward, with only his mother and the nurses asking about his bowel movements for company, when a blast of Lady Gaga penetrates the thin adjoining wall of his hospital room, Zac is intrigued by his new neighbour, Mia.
Before her diagnosis of osteosarcoma Mia gave little thought to the future but she could never have imagined she would face it as a 'one legged freak'. Furious with everyone and everything, including herself, and desperate to deny the reality of her situation, Mia tries to run as far away as she can from her old life.
The narrative is shared between the perspectives of Zac and Mia. Betts characterisation is credible and I felt her portrayal of her protagonist's emotions and behaviours was realistic.
Zac is an easy character to like, he is sweet, thoughtful and deals with the indignities cancer treatment forces upon him graciously. His family is supportive, with his mother rarely leaving his bedside. He has a sense of humour about his situation, and remains hopeful even despite his bleak odds of long term survival.
"I don't moan about treatment because what's the point? The way I figure it, this is just a blip. The average life span for an Australian male is currently seventy nine years or 948 months. This hospital stay, plus the rounds of chemo and the follow up visits, add up to about nine months. That's only 1.05 percent of my life spent with needles and chemicals, which, put into perspective, is less that one of the tiles of the eighty-four on the ceiling. So, in the scheme of things, it's nothing."
Mia is a seemingly less sympathetic character, she is bitter, angry and absorbed by her own misery after her diagnosis, however I never held that against her. In truth, Mia is simply terrified and, completely overwhelmed, lashes out indiscriminately.
"Lucky?
While my friends were dancing at Summadayze, I was kept in observation with intravenous morphine. I pitched in and out of the world, visited by shrinks who attempted to talk about change and perspective and body image and luck. Then they hooked me up to more chemo. I couldn't eat, wouldn't talk, didn't watch when the wound was unbandaged or the staples taken out. I tried to trick myself beyond my fucked-up body, slipping between vivid dreams until the morphine was taken away and I was left to live like this."
The relationship that develops between Zac and Mia is well crafted and believable. Despite their differences, the pair form a tentative friendship, starting with a few taps on the hospital wall dividing them. It isn't until Mia unexpectedly turns up on Zac's doorstep once he is home though that the pair really begin to get to know one another.
While there is a touch of romance, it is important to note that Zac and Mia isn't a love story. This is a story about friendship, understanding, family and finding the strength to face life's difficult challenges. It is poignant and sweet, though Betts doesn't gloss over the darker realities of battling cancer.
The comparisons between Zac and Mia and John Green's The Fault in Our Stars are almost inevitable given the similar premise, so I think it is important to point out that author interviews have them drafting their novels at about the same time and published only months apart (Text publishing 2012) . I loved The Fault In Our Stars but of the two, I think Zac and Mia is the more genuine story.
Zac and Mia is available to purchase from
HMH I AmazonUS I BookDepository I Indiebound
In Australia via Booko