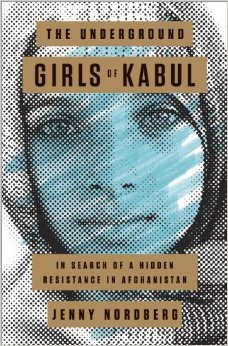 Title: The Underground Girls of Kabul: In Search of Hidden Resistance in Afghanistan
Author: Jenny Nordberg
Published:  Crown Publishing: Random House September 2014
Status: Read from August 22 to 23, 2014 — I own a copy   {Courtesy the publisher/netgalley}
My Thoughts:
"We are who we must be."
In The Underground Girls of Kabul, Swedish journalist Jenny Nordberg reveals a hidden practice in Afghanistan of presenting young girls as boys for part, or all, of their childhood. In an oppressive patriarchal society that demands sons at almost any cost, these girls are known as bacha posh.
"[I] have met girls who have been boys because the family needed another income through a child who worked; because the road to school was dangerous and a boy's disguise provided some safety or because the family lacked sons and needed to present as a complete family to the village. Often…it is a combination of factors. A poor family may need a [bacha posh] for different reasons than a rich family, but no ethnic or geographical reasons set them apart."
Nordberg attempts to explain the complex role of a bacha posh by sharing the moving personal stories of a number of Afghan women, including Azita, a female parliamentarian who turns her fourth daughter into a boy; Zahra, who refuses her parents' attempts to turn her back into a girl; Shukria, now a married mother of three after living for twenty years as a man; and Shahed, an undercover female police officer, who remains in male disguise as an adult.
The author also explores the traditional roots of the practice within the cultural, political and religious framework of Afghan society, and how it contributes to the global dialogue on gender issues. "The way I have come to see it now is that bacha posh is a missing part in the history of women." concludes Nordberg.
Written with keen insight and sensitivity, The Underground Girls of Kabul is a fascinating and poignant account of women's lives in Afghanistan.
The Underground Girls of Kabul is available to purchase from
Random House US I AmazonUS I BookDepository I Indiebound