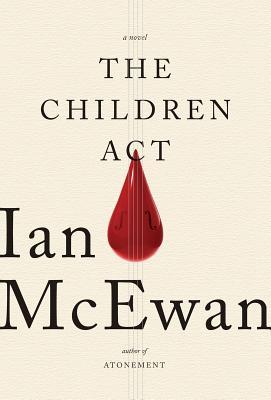 Title: The Children Act
Author: Ian McEwan
Published: Nan A. Talese: Random House September 2014
Status: Read from September 03 to 04, 2014 — I own a copy   {Courtesy the publisher/Edelweiss}
My Thoughts:
Ian McEwan has been on my 'must read someday' author list for a while so I couldn't pass up the chance to read The Children Act.
Fiona Maye is a well respected High Court judge presiding over family-related matters. Few of her cases are simple in that she must consider the matter of law with reference to the complexities of humanity, especially in circumstances where children are involved, but Fiona prides herself on presenting impartial and sensitive rulings. The case of a teenage boy, Adam, just months shy of his eighteenth birthday, in desperate need of a blood transfusion that has been refused by his parents on the grounds of religious belief, should be no more or less challenging than any Fiona has faced, yet it arises on the same day that her husband of thirty years demands the right to have an affair. Fiona, while struggling with her private betrayal and shaken confidence, hears Adam's case but decides to visit his bedside before making a ruling and unwittingly forms a bond with the vulnerable young man.
In the Children Act, McEwan poses interesting questions about the separation, and relationship, between law and religious belief and how they apply to the welfare of a child. Fiona's court is faced with devout Catholic parents refusing surgery to separate their co-joined twins, a woman seeking an order to prevent her Muslim husband from taking their daughter to a country from where he won't be compelled to return, a Jewish couple in a custody dispute and the defining case, that of seventeen year old leukemia sufferer Adam whose parents are refusing a life saving blood transfusion due to their Jehovah's Witnesses faith.
Also at issue are questions about personal freedom and responsibility which arise in both Fiona's professional and personal lives. Who is responsible for the decisions Adam makes? Does he truly have the freedom to make a decision for himself? How responsible is Fiona for rulings she makes, and for what comes after? What responsibility does Fiona bear for the problems in her marriage? Does she have the right to deny her husband the freedom he requests?
McEwan's style of prose is succinct yet surprisingly lyrical. There is impressive nuance within the narrative that communicates emotion without explicit description, like the offer of a cup of coffee as a truce. In terms of pacing however I felt as if the story would perhaps have better suited to the length of a novella, as the second half of the novel loses some momentum.
The Children Act is an interesting and provocative novel though not as compelling as I had perhaps hoped, however I can see how McEwan has earned his stellar reputation in the literary community.
The Children Act is available to purchase from
Random House I AmazonUS I BookDepository I IndieBound
In Australia via Booko