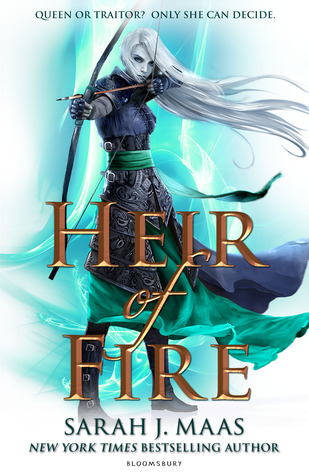 Title: Heir of Fire {Throne of Glass #3}
Author: Sarah J. Maas
Published: Bloomsbury September 2014
Status: Read from September 01 to 03, 2014 — I own a copy   {Courtesy the publisher}
My Thoughts:
Pushed into a corner by the tragic events that concluded Crown of Midnight Celaena Sardothien is forced to face her past and embrace her future as Queen Aelin Galathynius in Heir of Fire, the third exciting installment of the Throne of Glass series from Sarah J Maas.
At just over 550 pages, Heir of Fire is quite an epic with a stronger focus on character development and insight than story, though it still offers plenty of intrigue, danger, fast paced action and a touch of romance.
Though sent to Wendlyn by King Ardalan to assassinate the Ashryver royal family, Celaena, mourning the loss of Nehemia and the end of her relationship with Chaol, has her own agenda. She needs to confront Queen Maeve and convince her to help Celaena to destroy the King, or at the very least answer some of the many questions she has about the Wyrdkeys and her family. Maeve however will not entertain her niece until she has an idea of her worth and insists she proves her mettle by training at Mistwood, under the supervision of Maeve's blood servant, fae warrior and prince, Rowan Whitethorn. And as Celaena works to control her magic at the remote demi-fae haven, King Ardalan makes his first move…
In confronting Queen Maeve, Caelaena earns herself a new ally in Rowan. It is not an easy relationship to begin with and later its boundaries are a little hard to define but I loved it. Rowan is exactly what Celaena needs to help her move past the self pity and stand up for all that has been lost.
While Celaena is absent from the Ardalan court, Dorian and Chaol struggle with what they have learned about the King. Chaol is faced with some difficult issues about trust, loyalty and friendship in his quest to protect Celaena. Meanwhile Dorian finally loses his heart, but in doing so risks losing everything.
The introduction of Manon Blackbeak, a fearsome witch readying herself and her kind for battle on the side of the King, was initially an unwelcome distraction, but I eventually found myself intrigued by her story. It is obvious Manon will play a crucial role in the battle to come and I look forward to witnessing it.
I have really been loving this series, I've become totally invested in the characters and lost in Maas's world of magic and intrigue. I am assuming that the next book will be last in this series (though there is potential to drag it out) – I am both eagerly looking forward to its release and simultaneously dreading the approach of the series end.
Heir of Fire is available to purchase from
Bloomsbury I
I Booktopia I Bookworld I via Booko
and all good bookstores.
Read my reviews for the first two books in the series