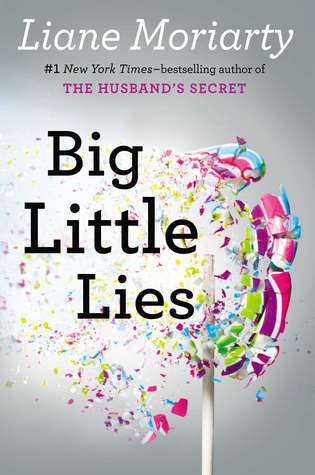 Title: Big Little Lies
Author: Liane Moriarty
Published: Amy Einhorn Books: Putnam July 2014
Status: Read from July 27 to 28, 2014 — I own a copy   {Courtesy the publisher/netgalley}
My Thoughts:
"Oh, we're such a caring school," the principal told me. Blah, blah. blah. Let me tell you the first thing I thought when I walked into that playground on that kindergarten orientation day was cliquey. Cliquey, cliquey, cliquey. I'm not surprised someone ended up dead. Oh, all right. I guess that's overstating it. I was a little surprised."
Big Little Lies begins with a death at Pirriwee Public School during a Trivia Night fundraiser, but the details are concealed as the narrative shifts to a period six months previously to introduce Madeline, Celeste and Jane, along with their offspring, at the Kindy orientation day.
It is at this inauspicious event that Jane's son, Ziggy, is accused of bullying a classmate, Amabella, triggering a sustained campaign of hysteria by her high powered mother, Renata, to punish Ziggy for denying being at fault. Madeline, a veteran of schoolyard politics and never one to shy away from controversy, chooses to side with Jane, supported by her best friend, the beautiful and wealthy mother of twin boys, Celeste and as such declares war.
While the school drama escalates in the lead up to the Trivia Night, the three main protagonists have other important concerns to deal with. Madeleine's teenage daughter from her first marriage wants to go and live with her father and his new wife, Celeste is barely holding together her veneer of perfection, and Jane is hiding a shocking secret regarding the paternity of her son. These complex characters are so perfectly formed it seems likely I could meet them at the school gate. This is unfortunately true too of the 'blonde bob' brigade, whom I am all too familiar with having endured 11 years of primary school politics (with four more still to go).
There is plenty of humour in this sharply observed novel of playground alliances, 'mummy wars' and domestic crises but as Moriarty slowly strips away the social veneer to explore truths about bullying, domestic violence, betrayal and infidelity its darker heart is exposed. As the tension builds, gossip swirls, secrets are revealed, alliances shift, and lies are found out. Ultimately of course the truth prevails, and the mysteries are resolved in the stunning climax.
Part noir suburban mystery, part domestic drama, Big Little Lies is compulsive reading. Thought provoking, clever, witty and wonderful, this is another wickedly brilliant novel from best selling Australian author Liane Moriarty.
Big Little Lies is available to purchase from
Penguin USA I Amazon US I BookDepository I via Indie Bound
***
In Australia from
Pan Macmillan I 
I Booktopia I Bookworld I Amazon AU
***
Also by Liane Moriarty
{click to see my reviews}