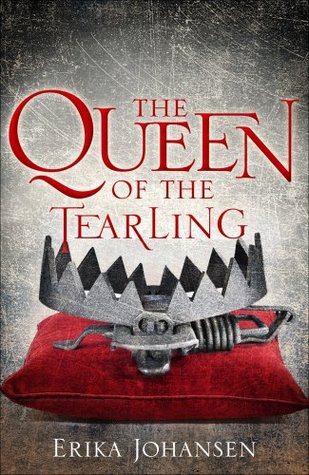 Title: The Queen of Tearling {The Queen of Tearling #1}
Author: Erika Johansen
Published:  Bantam Press: Random House July 2014
Status: Read from July 18 to 20, 2014 — I own a copy   {Courtesy the publisher}
My Thoughts:
Erika Johansen's debut novel, The Queen of the Tearling, attracted notice months before its publication date. The film rights have already been bought by Warner Bros and Harry Potter actress Emma Watson has signed on as both executive producer, and its star.
The Queen of the Tearling is the first book in a trilogy featuring nineteen year old Kelsea Glynn, the newly revealed heir to the throne of Tearling. After a lifetime in hiding she must claim her birthright and defend her rule against her debauched uncle, corrupt officials and The Red Queen, a depraved sorceress who reigns the neighbouring land of Mortmesme.
In terms of plot there isn't really much to distinguish this fantasy novel from those with similar tropes, but there is plenty of action with a surprisingly dark and gritty edge. Kelsea's fight for her throne results in a wealth of political intrigue, involving spies at court, assassination attempts and attempts to circumvent Kelsea's orders, which leads to multiple sword clashing confrontations. Magic shimmers in the air, but affords only a few its privileges, and there are also seeds of romance for Kelsea with a handsome rogue named Fetch.
Tearling is a realm rife with corruption, heavy with bureaucracy which favours the rich and exploits the poor. Initially I was puzzled by the setting but eventually figured out that despite the medieval detail, it is set not in the past, or an alternate universe, but the distant post-apocalyptic future of our own world. This creates an unusual landscape that blends a feudal society with reminders of modern life, which also embraces magic, but exactly how, and why, it came about is only hinted at.
I liked Kelsea well enough, she is a mixture of teenage insecurity, often naive and headstrong, but also compassionate, determined and well intentioned. She faces a myriad of ethical challenges with both the idealism and pragmatism of youth. I was a little disappointed at the emphasis both the author, and her character, place on appearance though.
The Queen of Tearling is an entertaining read and though it is not without its flaws as a novel, I can see its cinematic potential, and I'll be interested to read its sequel.
The Queen of Tearling is available to purchase from
Random House I
I Booktopia I Bookworld I via Booko
Amazon AU  I Amazon US I Amazon UK
and all good bookstores.