Annabel Smith and Emma Chapman were inspired to create this meme by a short story titled 'Chains' in which Hungarian writer and poet Frigyes Karinthy first coined the phrase 'six degrees of separation'. Based on the idea in Karinthy's story, Emma and Annabel will choose a book each month, and link it to five other books in a chain, inviting their readers and other bloggers to join them by creating their own 'chain' leading from the selected book.
Books can be linked in obvious ways – for example, books by the same authors, from the same era or genre, or books with similar themes or settings. Or, you may choose to link them in more personal or esoteric ways: books you read on the same holiday, books given to you by a particular friend, books that remind you of a particular time in your life, or books you read for an online challenge.
The great thing about this meme is that each participant can make their own rules. A book doesn't need to be connected to all the other books on the list, only to the ones next to them in the chain.
*********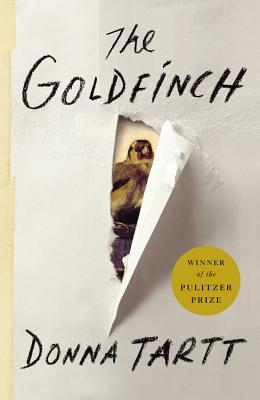 This month, Annabel and Emma have chosen 2014 Pulitzer Prize winner The Goldfinch by Donna Tartt

"It begins with a boy. Theo Decker, a thirteen-year-old New Yorker, miraculously survives an accident that kills his mother. Abandoned by his father, Theo is taken in by the family of a wealthy friend. Bewildered by his strange new home on Park Avenue, disturbed by schoolmates who don't know how to talk to him, and tormented above all by his unbearable longing for his mother, he clings to one thing that reminds him of her: a small, mysteriously captivating painting that ultimately draws Theo into the underworld of art. As an adult, Theo moves silkily between the drawing rooms of the rich and the dusty labyrinth of an antiques store where he works. He is alienated and in love-and at the center of a narrowing, ever more dangerous circle. The Goldfinch is a novel of shocking narrative energy and power. It combines unforgettably vivid characters, mesmerizing language, and breathtaking suspense, while plumbing with a philosopher's calm the deepest mysteries of love, identity, and art. It is a beautiful, stay-up-all-night and tell-all-your-friends triumph, an old-fashioned story of loss and obsession, survival and self-invention, and the ruthless machinations of fate"
***
The obvious link here is to another Pulitzer Prize Winner – A Visit from the Good Squad by Jennifer Egan.
"Bennie is an aging former punk rocker and record executive. Sasha is the passionate, troubled young woman he employs. Here Jennifer Egan brilliantly reveals their pasts, along with the inner lives of a host of other characters whose paths intersect with theirs. With music pulsing on every page, A Visit from the Goon Squad is a startling, exhilarating novel of self-destruction and redemption."
***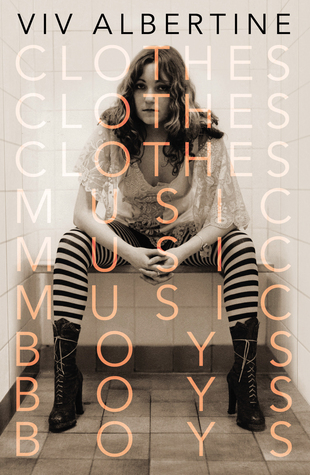 Punk music is the link to Viv Albertine's memoir, Clothes, Clothes, Clothes, Music, Music, Music, Boys, Boys, Boys.
"Viv Albertine is one of a handful of original punks who changed music, and the discourse around it, forever. In Clothes … Music … Boys a story hitherto dominated by male voices is recast through the eyes of one of the most glamorous, uncompromising and iconic figures of the time. After forming The Flowers of Romance with Sid Vicious in 1976, Viv joined The Slits and made musical history as one of the first generation of punk bands. Here is the story of what it was like to be a girl at the height of punk: the sex, the drugs, the guys, the tours, the hard lessons learnt and those not considered. From Madonna to Lady Gaga, fashion to feminism, Viv Albertine has influenced a range of exceptional artists. Here, before and beyond the break-up of The Slits in 1982, is the full story of a life lived unscripted, with foolishness, bravery and great emotional honesty. A memoir full of raw and uncompromising anecdote and opinion, Clothes, Clothes, Clothes. Music, Music, Music. Boys, Boys, Boys is an unflinching account of a life lived on the frontiers of experience, by a true pioneer."
***
Let's Pretend This Never Happened by Jenny Lawson is also a memoir
"When Jenny Lawson was little, all she ever wanted was to fit in. That dream was cut short by her fantastically unbalanced father (a professional taxidermist who created dead-animal hand puppets) and a childhood of wearing winter shoes made out of used bread sacks. It did, however, open up an opportunity for Lawson to find the humor in the strange shame spiral that is her life, and we are all the better for it. Lawson's long-suffering husband and sweet daughter are the perfect comedic foils to her absurdities, and help her to uncover the surprising discovery that the most terribly human moments-the ones we want to pretend never happened-are the very same moments that make us the people we are today. Let's Pretend This Never Happened is a poignantly disturbing, yet darkly hysterical tome for every intellectual misfit who thought they were the only ones to think the things that Lawson dares to say out loud. Like laughing at a funeral, this book is both irreverent and impossible to hold back once you get started."
***
Alice Hoffman's protagonist, Coralie Sardie,  in The Museum of Extraordinary Things also grew up surrounded by, amongst other things, taxidermied animals displayed in her father's 'freak' museum.
"Coney Island, 1911: Coralie Sardie is the daughter of a self-proclaimed scientist and professor who acts as the impresario of The Museum of Extraordinary Things, a boardwalk freak show offering amazement and entertainment to the masses. An extraordinary swimmer, Coralie appears as the Mermaid alongside performers like the Wolfman, the Butterfly Girl,and a 100 year old turtle, in her father's "museum". She swims regularly in New York's Hudson River, and one night stumbles upon a striking young man alone in the woods photographing moon-lit trees. From that moment, Coralie knows her life will never be the same. The dashing photographer Coralie spies is Eddie Cohen, a Russian immigrant who has run away from his father's Lower East Side Orthodox community. As Eddie photographs the devastation on the streets of New York following the infamous Triangle Shirtwaist Factory fire, he becomes embroiled in the mystery behind a young woman's disappearance and the dispute between factory owners and labourers. In the tumultuous times that characterized life in New York between the world wars, Coralie and Eddie's lives come crashing together in Alice Hoffman's mesmerizing, imaginative, and romantic new novel."
***
Another novel which features a collector of something unusual is The Collector of Dying Breaths by M.J. Rose
"A lush and imaginative novel that crisscrosses time as a perfumer and a mythologist search for the fine line between potion and poison, poison and passion…and past and present. Florence, Italy—1533: An orphan named René le Florentin is plucked from poverty to become Catherine de Medici's perfumer. Traveling with the young duchessina from Italy to France, René brings with him a cache of secret documents from the monastery where he was trained: recipes for exotic fragrances and potent medicines—and a formula for an alchemic process said to have the potential to reanimate the dead. In France, René becomes not only the greatest perfumer in the country but the most dangerous, creating deadly poisons for his Queen to use against her rivals. But while mixing herbs and essences under the light of flickering candles, Rene doesn't begin to imagine the tragic and personal consequences for which his lethal potions will be responsible. Paris, France—The Present: A renowned mythologist, Jac L'Etoile, is trying to recover from personal heartache by throwing herself into her work, learns of the 16th century perfumer who may have been working on an elixir that would unlock the secret to immortality. She becomes obsessed with René le Florentin's work—particularly when she discovers the dying breathes he had collected during his lifetime. Jac's efforts put her in the path of her estranged lover, Griffin North, a linguist who has already begun translating René le Florentin's mysterious formula. Together they confront an eccentric heiress in possession of a world-class art collection. A woman who has her own dark purpose for the elixir… a purpose for which she believes the ends will justify her deadly means. This mesmerizing gothic tale of passion and obsession crisscrosses time, zigzagging from the violent days of Catherine de Medici's court to twenty-first century France. Fiery and lush, set against deep, wild forests and dimly lit chateaus, The Collector of Dying Breaths illuminates the true path to immortality: the legacies we leave behind."
********
Six books linked   and the common theme – they are all on my shelf, as yet unread.
Visit Emma's or Annabel's blogs if you would like to join in with this meme or to browse the intriguing connections from bloggers who are participating.