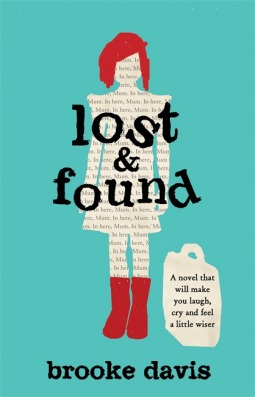 Title: Lost & Found
Author: Brooke Davis
Published: Hachette June 2014
Status: Read from June 24 to 25, 2014 — I own a copy
My Thoughts:
Three months after her dad became A Dead Thing, Millie Bird's mother takes her to a department store and asks her to wait for her. Clutching her backpack stuffed with frozen juice boxes, texta's, tea light candles, a Just In Case glass jar and her Book of Dead Things, Millie waits, huddled under a rack of Ginormous Women's Underwear, for her mother's gold shoes to come click clacking back.
Karl the Touch Typist, an 87 year old escapee from a nursing home still mourning the loss of his beloved wife, Evie, is looking for one last grand adventure and he finds it when a little girl, who has been abandoned by her mother, takes his hand.
Agatha Pantha has not left her home in seven years. She spends her days staring at her aging self in the mirror, listening to the static of the TV, and shouting insults at the people and things she can see from her living room window. Until the day a little girl with the red gumboots to match her curly red hair, knocks on her door.
These three unusual characters, lost souls who have somehow found each other, embark on a wild cross country quest to reunite Millie with her mother.
A quirky tale of loss, grief and love, Lost and Found is a touching debut from Brooke Davis. It confronts the taboo's of death and aging with sharp observations and an unique sense of humour incorporating a madcap road trip, a one legged mannequin and stolen keyboard letters.
The characters eccentricities are delightful. Seven year old Millie is endearing in all her precocious innocence, struggling to understand where people go when they leave. Karl, whose fingers never tire of typing love letters to his deceased wife, searching for his lost youth and vitality, and Agatha, whose shouty abrasiveness prevents her from feeling lonely and unloved.
Charming and whimsical, poignant and wise, Lost & Found is a bittersweet reminder that though all things die, life is to be lived.
Lost & Found is available to purchase at
Hachette I
I Booktopia I Bookworld I via Booko
and all good bookstores.