Annabel Smith and Emma Chapman were inspired to create this meme by a short story titled 'Chains' in which Hungarian writer and poet Frigyes Karinthy first coined the phrase 'six degrees of separation'. Based on the idea in Karinthy's story, Emma and Annabel will choose a book each month, and link it to five other books in a chain, inviting their readers and other bloggers to join them by creating their own 'chain' leading from the selected book.
Books can be linked in obvious ways – for example, books by the same authors, from the same era or genre, or books with similar themes or settings. Or, you may choose to link them in more personal or esoteric ways: books you read on the same holiday, books given to you by a particular friend, books that remind you of a particular time in your life, or books you read for an online challenge.
The great thing about this meme is that each participant can make their own rules. A book doesn't need to be connected to all the other books on the list, only to the ones next to them in the chain.
*********
This month, Annabel and Emma have chosen 2013 Man Booker winner The Luminaries by Eileen Catton.
"It is 1866, and young Walter Moody has come to make his fortune upon the New Zealand goldfields. On the stormy night of his arrival, he stumbles across a tense gathering of twelve local men who have met in secret to discuss a series of unexplained events: A wealthy man has vanished, a prostitute has tried to end her life, and an enormous fortune has been discovered in the home of a luckless drunk. Moody is soon drawn into the mystery: a network of fates and fortunes that is as complex and exquisitely ornate as the night sky."

***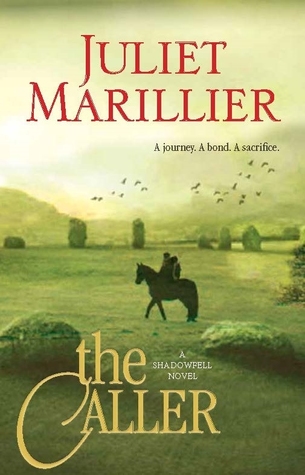 From The Luminaries I am choosing to connect to The Caller by Juliet Marillier based on the shared nationality of the two authors. Both women identify as New Zealand writers, though Catton was actually born in Canada and Mariller now lives in Western Australia. The Caller is final book in Marillier's fantasy, young adult trilogy, Shadowfell.
Neryn has made a long journey to perfect her skills as a Caller. She has learned the wisdom of water and of earth; she has journeyed to the remote isles of the west and the forbidding mountains of the north. Now, Neryn must travel in Alban's freezing winter to seek the mysterious White Lady, Guardian of Air. For only when Neryn has been trained by all four Guardians will she be ready to play her role in toppling the tyrannical King Keldec.
But the White Lady is not what she seems. Trapped with Whisper, her fey protector, Neryn is unable to send word to her beloved Flint, who is in danger of being exposed as a double agent. When a new threat looms and the rebellion is in jeopardy, Neryn must enter Keldec's court, where one false move could see her culled. She must stand up against forces more powerful than any she has confronted before, and face losses that could break her heart.
***
An interesting fact about Juliet prompted me to choose Hounded by Kevin Hearne to continue the chain. Marillier is a member of the druid order OBOD (The Order of Bards, Ovates and Druids) and Hearne's urban fantasy series features a centuries year old druid,  Atticus O'Sullivan, who runs an an occult bookshop in modern-day Arizona. The first book in The Iron Druid Chronicles, I have been enjoying this fun series.
"Tempe, Arizona is as far removed from paranormal activity as is possible. And that's where Atticus O'Sullivan, rare book salesman, herb peddler, and 2,000 year old Druid the last of his kind has decided to set up shop. He's been on the run, guarding a very powerful sword from a very angry ancient Celtic god for over two millennia now. But while these years have been good to him Atticus has become more powerful than he could have possibly imagined The Morrigan, a very old god of death, has predicted death and doom for our hero, and it's up to Atticus, with help from a pride of werewolves, and a gorgeous bartender possessed by an Indian witch, to stay alive, hopefully for another thousand years."
***
The leap from Hounded to The Storied Life of A.J. Firky by Gabrielle Zevin is an easy one since the protagonists of  both novels are bookstore owners. I have not long read this funny, moving and yes, sometimes saccharine, story which embraces quirky individuals, the comfort of community and the enjoyment of a good book.
"On the faded Island Books sign hanging over the porch of the Victorian cottage is the motto "No Man Is an Island; Every Book Is a World." A. J. Fikry, the irascible owner, is about to discover just what that truly means.
A. J. Fikry's life is not at all what he expected it to be. His wife has died, his bookstore is experiencing the worst sales in its history, and now his prized possession, a rare collection of Poe poems, has been stolen. Slowly but surely, he is isolating himself from all the people of Alice Island-from Lambiase, the well-intentioned police officer who's always felt kindly toward Fikry; from Ismay, his sister-in-law who is hell-bent on saving him from his dreary self; from Amelia, the lovely and idealistic (if eccentric) Knightley Press sales rep who keeps on taking the ferry over to Alice Island, refusing to be deterred by A.J.'s bad attitude. Even the books in his store have stopped holding pleasure for him. These days, A.J. can only see them as a sign of a world that is changing too rapidly.
And then a mysterious package appears at the bookstore. It's a small package, but large in weight. It's that unexpected arrival that gives A. J. Fikry the opportunity to make his life over, the ability to see everything anew. It doesn't take long for the locals to notice the change overcoming A.J.; or for that determined sales rep, Amelia, to see her curmudgeonly client in a new light; or for the wisdom of all those books to become again the lifeblood of A.J.'s world; or for everything to twist again into a version of his life that he didn't see coming. As surprising as it is moving, The Storied Life of A. J. Fikry is an unforgettable tale of transformation and second chances, an irresistible affirmation of why we read, and why we love."
***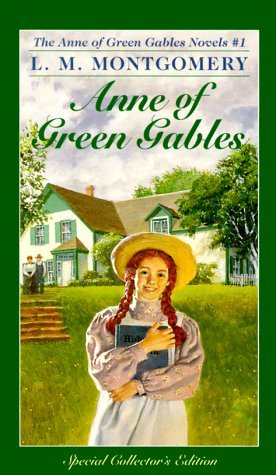 If ever there has been an island that has lived in my imagination it is Canada's Prince Edward Island, the setting for Anne of Green Gables by L.M. Montgomery . This classic novel hardly needs an introduction, beloved as it is the world over. I also adore the television miniseries which includes Anne of Green Gables, Anne of Green Gables: The Sequel and Anne of Green Gables: The Continuing Story and watch it every year!
""She'll have to go back." Matthew and Marilla Cuthbert had decided to adopt an orphan. They wanted a nice sturdy boy to help Matthew with the farm chores. The orphanage sent a girl instead – a mischievous, talkative redhead who the Cuthberts thought would be no use at all. But as soon as Anne arrived at the snug, white farmhouse called Green Gables, she knew she wanted to stay forever. And the longer Anne stayed, the harder it was for anyone to imagine Green Gables without her."
***
Another favourite television series of mine based on a novel is Haven, a supernatural drama series from Syfy. Loosely based on The Colorado Kid by Stephen King, it is set in Maine but filmed on the South Shore of Nova Scotia, Canada – giving it another link to Anne of Green Gables.
"On an island off the coast of Maine, a man is found dead. There's no identification on the body. Only the dogged work of a pair of local newspapermen and a graduate student in forensics turns up any clues, and it's more than a year before the man is identified.And that's just the beginning of the mystery. Because the more they learn about the man and the baffling circumstances of his death, the less they understand. Was it an impossible crime? Or something stranger still…?"
********
So that's it, six books linked by six degrees of separation linked variously by author, character, setting, and theme.
Visit Emma's or Annabel's blogs if you would like to join in with this meme or to browse the intriguing connections from bloggers who are participating.