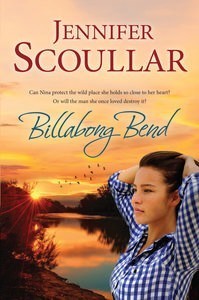 Title: Billabong Bend
Author: Jennifer Scoullar
Published: Michael Joseph: Penguin May 2014
Status: Read from May 26 to 27, 2014 — I own a copy   {Courtesy the publisher}
My Thoughts:
Set amongst farming land in the Murray Darling Basin region of northern New South Wales, Billabong Bend is an wonderful novel of romance both on, and with, the land.
Fiercely protective of the river and wetlands that borders her property, Nina Moore's is determined to extend her sustainable agricultural and environmental rehabilitation practices on Red Gums to the neighbouring property, Billabong Bend, if only she can convince Eva, the elderly owner, to sell it to her. Nina is worried that if a cotton farmer, like Max Bonnelli, gets his hands on Billabong Bend, the entire marshlands ecosystem will suffer irreparable harm.
Nina's concerns are partly alleviated when, after a fifteen year absence, Max's son Ric returns to Donnalee. With the rekindling of their teenage romance, Nina is convinced Ric will be able to temper his father's greed but when tragedy strikes, Nina's dreams of rescuing Billabong Bend, and building a future with Ric, threaten to be swept away.
Conservation and environmental protection is a major theme of this novel. Scoullar's descriptions of the setting for Billabong Bend are evocative and vivid, from land scared by drought,
"The earth's living skin had peeled and cracked",
that nevertheless teems with life,
"Beneath her wheeled squadrons of pelicans and flocks of ibis. She flew lower. A startled white-bellied eagle took cover in a rare patch of weeping myall woodland. Lower again. Long-legged emus raced at breakneck speed through the swampy sedgeland. She could taste the vast, dry continent beneath her, hear the music of its river red gums, feel its clear, summer skies in her veins. Something prickled the back of her neck and a profound sense of excitement and joy coursed through her….Now this, she reminded herself. This was living."
From the opening scene, I liked and respected Nina for her passion about the land on which she lives and the unique habitat of the river, not dissimilar to the one that flows through the town I live in. I was interested by the information I learned about the wildlife, water use, and sustainable farming practices Nina engages in, and the threats to the health of the land over and above the devastation wrought by drought.
The romantic aspect of Billabong Bend is perhaps not as strong as I expected. I personally don't mind that the relationship between Nina and Ric is more a background element of the novel but those readers who prefer it as a focus, may be somewhat disappointed.
Reminiscent of the Australian classic Storm Boy by Colin Thiele, a truly delightful element of the story involves Ric's precocious daughter, Sophie, who hatches and raises a flock of a geese orphaned by Max, and teaches them to fly. The scene where the geese soar over Sophie racing on the quad bike is one of the many that will stay with me.
With appealing characters, a thought provoking storyline combining romance with a touch of mystery, and rich and resplendent setting, Billabong Bend is a captivating read, and one which I wouldn't hesitate to recommend.
Billabong Bend  is Available to Purchase from
PenguinI
I Booktopia I via Booko
Click the cover to read my reviews of