The Its Monday! What Are You Reading meme is hosted at Book Journey.
Life…
It has been quite an exciting and exhausting week, beginning with my trip to Sydney to attend the Random House Penguin Book Bloggers National Forum and ending with my daughter's 18th birthday party.
I flew into Sydney on Monday, enjoyed a free upgrade to a suite at the hotel and that evening I met with a handful of other bloggers for dinner, including Anna from Simon and Schuster. The Forum, held on Tuesday, was a wonderful experience, I have posted a summary of the day's events which you can read in this post. Highlights included the interesting guest authors, a peek at upcoming releases and finally meeting other book bloggers.
I flew home on Wednesday afternoon and had to hit the ground running as it was my oldest daughter's 18th birthday and I had to start preparing for the 40 guests expected for her birthday party on the weekend.  Between cleaning, shopping, cooking and learning we would unexpected have overnight guests, I also had to organise my younger daughters requirements for her overnight scout hike over the weekend, figure out what my sons would wear to  a zombie themed birthday party and manage the usual litany of after school activities. The party on Saturday night was a success but by the time we farewelled our guests on Sunday I was completely exhausted!
What I Read Last Week
Chasing Shadows by Leila Yusef Chung
A Dog Walks into a Nursing Home by Sue Halpern
A Place of her Own by Deborah O'Brien
Everything I Never Told You by Celeste Ng
Encore by Margaret Lynn Sharp
New Posts

(click the titles to read my reviews)
A Day at the Random House Penguin Book Blogger Forum 2014
Review: A Dog Walks into a Nursing Home by Sue Halpern ★★★
Review: Chasing Shadows by Leila Yusef Chung ★★★1/2
Review: Everything I Never Told You by Celeste Ng ★★★
 What I Am Reading Today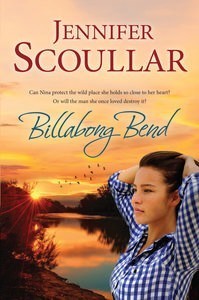 For Nina Moore, the rare marshland flanking the beautiful Bunyip River is the most precious place on earth. Her dream is to buy Billabong Bend and protect it forever, but she's not the only one with designs on the land. When her childhood sweetheart Ric returns home, old feelings are rekindled, and Nina dares to dream of a future for both of them on the river. But a tragic death divides loyalties and threatens to tear apart their fledgling romance. This star-crossed rural romance sets Nina, a floodplains grazier, and Ric, a traditional cotton farmer, on a heart-rending collision course, amid the beauty of northern NSW.
What I Plan To Read This Week
(click the covers to view at Goodreads)
A serial killer's work goes unnoticed until Detective Berlin is on the case in this third spine-tingling Charlie Berlin novel. It's 1967, the summer of love, and in swinging Melbourne Detective Sergeant Charlie Berlin has been hauled out of exile in the Fraud Squad to investigate the disappearance of a teenage girl, the daughter of a powerful and politically connected property developer. As Berlin's inquiries uncover more missing girls he gets an uneasy feeling he may be dealing with the city's first serial killer. Berlin's investigation leads him through inner-city discothèques, hip photographic studios, the emerging drug culture and into the seedy back streets of St Kilda. The investigation also brings up ghosts of Berlin's past as a bomber pilot and POW in Europe and disturbing memories of the casual murder of a young woman he witnessed on a snow-covered road in Poland in the war's dying days. As in war, some victories come at a terrible cost and Berlin will have to face an awful truth and endure an unimaginable loss before his investigation is over.
The week before Christmas, 1929, Eoghan O'Keenan loses his factory job, and has to flee the slums of Chippendale with his seven-year-old sister Agnes. On the north side of Sydney at Lavender Bay, Olivia Greene is working on her latest millinery creations and dreaming of becoming the next Coco Chanel. A job on the Harbour Bridge for Eoghan, designing couture for the Governor's wife for Olivia, and a chance meeting in the Botanic Gardens sees the beginning of an unconventional romance. From vastly different backgrounds, with absolutely nothing in common – from faith to wealth and class – it seems that the blue mile of harbour between Olivia and Eoghan will be the least of the obstacles ahead. By mid-1932, as the construction of the Bridge is completed, the city is in chaos as the Great Depression begins to bite hard and the unemployed edge ever closer to a violent revolt. And then Eoghan disappears. Set against the spectacular backdrop of Sydney Harbour, The Blue Mile is a tale of the both wild and calculated risks a city took to build a wonder of the world, and of those taken by ordinary people to save a great love, against all of the odds.
 A heartbreaking tale of childhood poverty, abuse and racism that happily becomes an inspiring story of an extraordinary woman's strength through adversity. It looked bleak and predictable for little Keelen Mailman: an alcoholic mother, absent father, the horrors of regular sexual and physical assault and the casual racism of a small outback town in the sixties. But somehow, despite the pain and deprivation, the lost education, she managed to absorb her mother's lessons: her Bidjara language and culture, her obligations to Country, and her loyalty to her family. So it was no surprise to some that a girl who could hide for a year in her own home to keep her family together, run as fast as Raylene Boyle and catch porcupine and goanna, would one day make history. At just 30, and a single mother, Keelen became the first Aboriginal woman to run a commercial cattle station when she took over Mt Tabor, two hours from Augathella on the black soil plains of western Queensland. This is the heartland of Bidjara country, after all, the place her mother and grandparents and great-grandparents had camped on and cared for, and where their ancestors left their marks on caves and rock walls more than 10,000 years ago. In this unflinching memoir, the warmth of Keelen's personality, her determination and her irresistible humour shine through as she recalls her extraordinary life.
Nila wasn't born beautiful and is destined to go through life unnoticed… until she becomes a saree maker. As she works, Nila weaves into the silk a pattern of love, hope and devotion, which will prove to be invaluable to more lives than her own. From the lush beauty of Sri Lanka, ravaged by bloody civil war, to India and its eventual resting place in Australia, this is the story of a precious saree and the lives it changes forever. Nila must find peace, Mahinda yearns for his true calling, Pilar is haunted by a terrible choice, Sarojini doubts her ability to love, Madhav is a holy fraud and Marion's understanding of the very meaning of love is challenged and transformed. Each teeters between joy and pain, and each is touched by the power and beauty of the saree. A breathtaking story of beauty, oppression and freedom… and of an enduring love that can never be broken.
While you are here…
 Winner of The Scent of Murder by Felicity Young : Marisa W
Winner of  Four-Leaf Clover by Charmaine Ross : Lynette M
Winner of Burning Dawn by Gena Showalter Prize Pack : Amber T