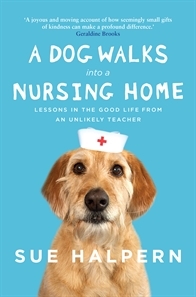 Title: A Dog Walks into a Nursing Home
Author: Sue Halpern
Published: Allen & Unwin May 2014
Status: Read from May 21 to 22, 2014 — I own a copy   {Courtesy the publisher}
My Thoughts:
When Sue Halpern found herself and her Labradoodle, Pransky, at a loose end, she searched for ways in which to keep them both busy. Of the options available, Sue felt Pransky would make a wonderful pet therapy dog and began the process of training for certification. Reigning in Pransky's natural exuberance was no small task but within a few months, having passed the assessment process, Sue and Pransky walked into the County Nursing Home and Rehabilitation Center to meet its residents.
Halpern introduces us to the men and women she and Pransky visit each week, who suffer a variety of ailments from simple old age to genetic diseases such as Huntington's and Alzheimers. The stories are sweet, touching and poignant and it is evident that Pransky's presence benefits those that spend time with her, providing companionship, comfort, and joy. It is equally clear that Halpern and Pransky also benefit from the time they spend at the facility.
A Dog Walks into a Nursing Home is "…about one singular, faithful, charitable, loving, and sometimes prudent dog….showing great hope, restraint and fortitude….". but also a thoughtful treatise on life, illness, aging and death. Each chapter is framed by one of the seven Virtues and includes anecdotes of Sue and Pransky's visits with the residents of the nursing home, interspersed with commentary on philosophy, religion, social policy, scientific research and healthcare.
Available to Purchase From
Allen & Unwin I
I Booktopia I Bookworld I  via Booko
Amazon AU I Amazon US I BookDepository