Happy Mother's Day!
Though my mum, Cherry,  doesn't read quite as much as me, she manages to finish at least one book a week, which is impressive given how busy she is. She and my father own a post office, though they are retiring this year, and enjoy an active social life. We live just over an hours drive apart so only see each other every six weeks or so, and at each visit I hand over a bag of books for her to read from my vast collection, which she then exchanges for another stack on our next visit. Like me, mum will read just about anything however she prefers historicals, speculative fiction and crime.
To celebrate Mothers Day today, I thought I would share with you  five of of my mum's  favourite books, so here they are in no particular order…
*******
The Dune Chronicles by Frank Herbert
Set in the far future amidst a sprawling feudal interstellar empire where planetary dynasties are controlled by noble houses that owe an allegiance to the imperial House Corrino, Dune tells the story of young Paul Atreides (the heir apparent to Duke Leto Atreides and heir of House Atreides) as he and his family accept control of the desert planet Arrakis, the only source of the "spice" melange, the most important and valuable substance in the universe. The story explores the complex and multi-layered interactions of politics, religion, ecology, technology, and human emotion, as the forces of the empire confront each other for control of Arrakis and its "spice".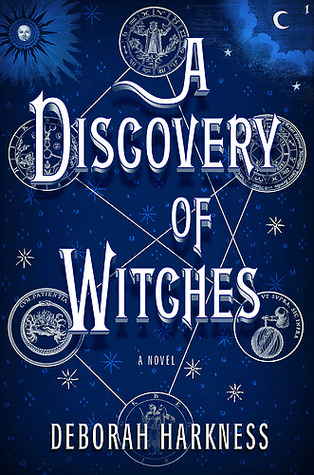 A Discovery of Witches by Deborah Harkness
Deep in the stacks of Oxford's Bodleian Library, young scholar Diana Bishop unwittingly calls up a bewitched alchemical manuscript in the course of her research. Descended from an old and distinguished line of witches, Diana wants nothing to do with sorcery; so after a furtive glance and a few notes, she banishes the book to the stacks. But her discovery sets a fantastical underworld stirring, and a horde of daemons, witches, and vampires soon descends upon the library. Diana has stumbled upon a coveted treasure lost for centuries-and she is the only creature who can break its spell.
The Name of the Rose by Umberto Eco
The year is 1327. Franciscans in a wealthy Italian abbey are suspected of heresy, and Brother William of Baskerville arrives to investigate. When his delicate mission is suddenly overshadowed by seven bizarre deaths, Brother William turns detective. His tools are the logic of Aristotle, the theology of Aquinas, the empirical insights of Roger Bacon—all sharpened to a glistening edge by wry humor and a ferocious curiosity. He collects evidence, deciphers secret symbols and coded manuscripts, and digs into the eerie labyrinth of the abbey, where "the most interesting things happen at night."
Postmortem by Patricia Cornwell
A serial Killer is on the loose in Richmond, Virginia. Three women have died, brutalised and strangled in their own bedrooms. There is no pattern: the killer appears to strike at random – but always early on Saturday mornings. So when Dr. Kay Scarpetta, chief medical examiner, is awakened at 2.33am, she knows the news is bad: there is a fourth victim. And she fears now for those that will follow unless she can diog up new forensic evidence to aid police. But not everyone is pleased to see a woman in this powerful job. Someone may even want to ruin her career and reputation…
Cat's Eye by Margaret Atwood
"Cat's Eye" is the story of Elaine Risley, a controversial painter who returns to Toronoto, the city of her youth, for a retrospective of her art. Engulfed by vivid images of the past, she reminisces about a trio of girls who initiated her into the fierce politics of childhood and its secret world of friendship, longing, and betrayal. Elaine must come to terms with her own identity as a daughter, a lover, and artist, and woman – but above all she must seek release from her haunting memories. Disturbing, hilarious, and compassionate, "Cat's Eye, " is a breathtaking novel of a woman grappling with the tangled knots of her life.
*******
What are your mother's favourite books?